With solar power representing more than a third of all new energy installations, it is not surprising solar jobs are having a rapid rise in growth. In this blog will examine the solar workforce in the US. Firstly where most of the job opportunities are currently located, and secondly what education is needed to qualify for one of these highly profitable jobs.
How big is the Solar workforce in the US?
Solar panels and jobs are booming in the U.S. In 2020, U.S. solar installations reached a new record – the industry added 19.2 gigawatts, a 43% jump over the previous year. For instance, California alone installed more than 2.5 million solar panels. While most solar panels are installed by large companies and utilities, more and more homeowners and small businesses are turning to them for clean energy. Solar power contributes about $45 billion to the US economy through reduced utility bills and investments in alternative energy. Today, over 3% of U.S. electricity comes from solar. That's 36 times more than a decade ago.
As companies seek to reduce their dependence on foreign oil, nearly 304,000 people now work in the solar industry. Solar jobs tripled from 2006 to 2014, there are now more solar workers than in oil and gas extraction, combined. Jobs in solar are increasing across the nation, according to the Solar Jobs Census report. In fact, the renewable energy sector now accounts for more than 13% of all new jobs created in the US since the beginning of the recession in December 2007.

The fastest-growing states for solar jobs in the US
PV capacity in the United States has grown fourfold from 22GW at the start of 2016 to more than 90GW at the end of 2020. But according to the Solar Energy Industries Association (SEIA), installed PV capacity in the US will double in the next four years to approximately 200GW. Who is leading the way in putting solar panels on homes and businesses? Across the country, solar installations are increasing as more states pass renewable energy or tax incentives to promote it. As shown below, these are the top 5 states for solar jobs:
Top States for Solar Jobs
Jobs in 2020: 68,677
Solar Installed (MW): 31,872.8
The solar jobs industry is booming in states like California. Apple, Facebook, and Intel have recognized the importance of solar jobs, and they now account for more than one per cent of all new jobs created in the United States. As a result, California is now "king" of solar jobs. Solar installations generated more than 45 billion dollars in revenue since 2008, and the state is committing $30 billion to affordable energy over the next 10 years.
Jobs in 2020: 11,219
Solar Installed (MW): 7,074.0
There is no renewable portfolio standard in Florida and it does not permit power purchase agreements that have spurred solar investments elsewhere. However, thanks to utilities investing in clean energy and other recent developments, the sector is on the rise.
Jobs in 2020: 10,214
Solar Installed (MW): 2,840.3
There's a lot of solar potential in New York, and it's consistently in the top 10 solar markets in the country. As well as the feed-in tariff, Long Island Power Authority (LIPA) and net metering are policies that promote solar investment. As part of its Reforming the Energy Vision docket, the Energy Commission is looking at the regulatory and market environment needed to encourage a more efficient electricity system, including distributed generation.
Jobs in 2020: 10,088
Solar Installed (MW): 9,311.0
Electricity consumption continues to rise in Texas as the economy grows. Market forces and environmental regulations have forced many generation sources out of the market, while older generation sources continue to retire. To meet the Texas market's demand, more solar capacity is needed. By 2022, Texas will add 5.4 GW of solar capacity, bringing the total installed solar capacity to 14,900 MW. In addition, recent grid issues should grow demand for upgrading infrastructure.
Jobs in 2020: 10,088
Solar Installed (MW): 3,262.7
Surprisingly, Massachusetts has made great progress despite a lower solar resource. Massachusetts has net metering and a renewable portfolio standard with a solar mandate, as well as its own SREC market. SMART (Solar Massachusetts Renewable Target) has been around since 2018 and has driven a lot of solar deployment in the state.
Employment Breakdown by Sector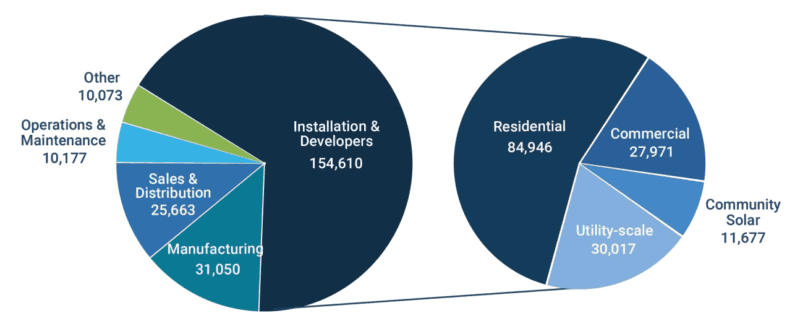 Installations, sales and distribution, project development, and other related fields are among the fastest-growing segments of the industry. This is not surprising however, considering the rapid growth of residential, commercial and utility-scale solar electricity generating capacity across the U.S.
67% of all jobs in the industry are related to installation and construction
More than half of all industry employment is in distributed installation (Residential, Commercial, and Community Solar).
Of these installation and construction jobs: 55% residential, 18% commercial, 8% community solar and 19% utility-scale
As a share of total jobs, installation jobs grew by nearly 2 per cent, while all the others declined modestly
Manufacturing employs 14%, Sales & Distribution 11%, and Operations & Maintenance 4%.
4% of all solar workers fall under the category of 'Other', which includes finance, legal, advocacy, and research.
Current trending solar careers and future workforce needs.
For 2021, solar hiring trends show that employers look for candidates with experience in solar installation, maintenance, operation, and maintenance. Since the economic crisis, many areas have seen an increase in the demand for trained professionals with the right skills. Therefore, the solar industry continues to grow and become more commercialized, this trend is expected to continue. Here are the fastest-growing solar energy jobs: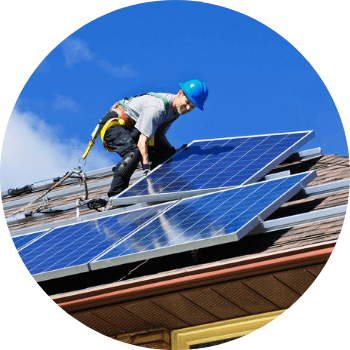 Solar photovoltaic installers are expected to see 104.9% job growth by 2026.
Sectors: Renewable-energy generation
Annual salary: $US 42,680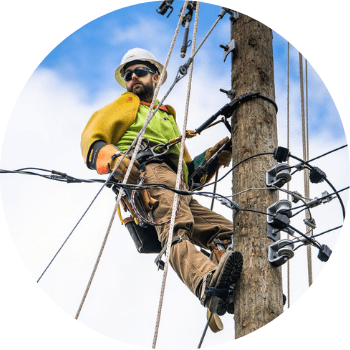 Electrical power-line installers and repairers are expected to see 13.9% job growth by 2026.
Sectors: Energy efficiency
Annual salary: $US 70,910
Training specialists are expected to see 11.5% job growth by 2026.
Sectors: Research, design, and consulting services
Annual salary: $US 60,870
In 2030, the solar industry will employ 400,000 workers if current trends continue. By 2035, 900,000 new solar workers across the supply chain will be necessary to meet President Biden's goals of decarbonizing the grid and expanding domestic manufacturing.
Need for training
In conclusion, skills in the clean energy industry are in high demand. Engineer and entrepreneur Saul Griffith has laid out a massive plan called Rewiring America, for example. This plan As the cost of solar energy continues to plummet, more people are turning to solar photovoltaics (PV) as an option for energy generation. However, most solar companies have difficulty finding qualified and experienced candidates, which puts projects at risk.
Why are solar companies having trouble hiring? According to Solar Foundation's latest National Solar Job Census – which was published in February 2020 – Almost half of the surveyed hiring managers say the main problem is a lack of experience, training, or technical skills. In an effort to help solar industry leaders hire new people and improve their employee training, we provide these resources: