---
Even though solar photovoltaics prices have declined, non-equipment costs like permits, inspections, and interconnections (PII) remain the same. PII involves more than 20,000 jurisdictions and 3,000 utilities, which may increase costs and delay installation processes. In addition, longer wait times may increase the risk of cancellations, resulting in even higher costs for successful projects.
What is Solar TRACE?
With Solar Trace, you can search permitting and interconnection information on every rooftop solar project in the United States. The report analyzes potential complications customers may face at the local level when installing renewable energy systems. Solar TRACE was developed by the NREL (National Renewable Energy Laboratory). A range of mid-to-large-scale installers provided data on over 200,000 residential rooftop photovoltaic (PV) projects to calculate the median timelines presented here, which represent 17-29% of all U.S. PV installations during the shown time period.
Through Solar TRACE, contractors, homeowners, and other interested parties can compare the time-frames of different PII processes between jurisdictions. Furthermore, this service can help you identify PII improvements that can reduce permitting deadlines and costs.
Los Angeles vs San Diego: solar permits and timelines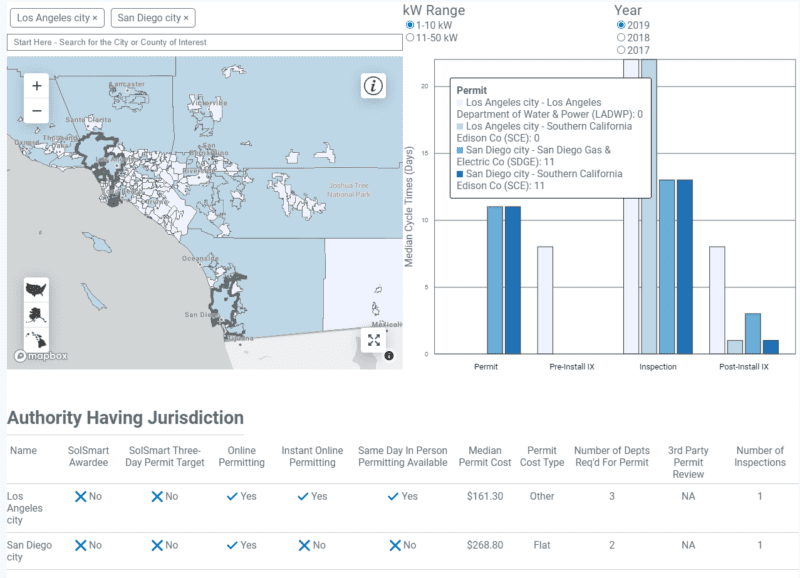 The cities of Los Angeles and San Diego both have online permitting systems, but approvals in San Diego still take up to 2 weeks (median: 11 days), as opposed to instant approvals in Los Angeles.
The Los Angeles Department of Water and Power requires about two weeks (median: 8 days) to approve an interconnection project. San Diego Gas and Electric does not require pre-install approval to build.
Solar TRACE includes data from all jurisdictions (AHJ) with at least ten permits approved each year. In each community, the tool lists the median number of days required to obtain permits, complete inspections after installation, and obtain approval for conduit interconnection. It allows users to compare multiple communities with one another and with the statewide average, as well as switch between statistics from 2019, 2018, and 2017 (with the intention of updating as new information becomes available).
How does your city's PII rank nationally?
Using Solar TRACE is easy. Simply search for the authority having jurisdiction (AHJ) of interest (which is typically a city or county city) to quickly see the median permitting time. The AHJs listed have a minimum of 10 permitted projects per year, based on installer data. These are the AHJ permitting and inspection timelines for the years listed (2017, 2018, and 2019) and by project size (1-10 and 11-50kW).